Discover more from Salem-Keizer Proletariat
Salem & Keizer news & analysis for the working class.
When Democrats do it, it's corruption. When Oregon GOP Leadership does it, it's sparkling grift
Fagan resigned over $10k/month. Breese-Iverson remains in office after appearing to direct millions to her husband
What if I told you there was a Republican leader in the Oregon House of Representatives that was super vocal about freshly resigned Shemia Fagan, but has a few million of her own grift that has somehow flown under the radar?
Just to put Republicans at ease, the source for this is your new fav publication Willamette Week - the Portland newspaper lauded by the right for its blockbuster investigative reporting into Shemia Fagan's ethics debacle.
But there was another blockbuster tale of ethics violations and financial issues that dwarf Fagan's moonlighting arrangement. The problem is, it broke just a couple days before the November 2022 elections - and was subsequently buried in election results.
Salem-Keizer Proletariat is entirely reader-supported publication. Local news is being defunded and good coverage free is hard to find. To receive new posts and support my work, consider becoming a free or paid subscriber.
But Nigel Jaquiss reported in November 2022 that Oregon GOP House Leader Vikki Breese-Iverson's husband, Bryan Iverson, owned Iverson Media Group. And after Breese-Iverson took over the GOP House Leadership role from Christine Drazan, political spending with her husband's firm ballooned.
From the Willamette Week story (emphasis added):
"When Breese-Iverson replaced former state Rep. Christine Drazan (R-Canby) as caucus leader last year, records show she also took control of the caucus's political action committee, Evergreen Oregon, as is customary for a caucus leader.

She also controls her own campaign PAC, Friends of Vikki, and is co-director of the AG First PAC. Collectively, these PACs have spent $193,000 with Iverson Media Group this year. Friends of Vikki also spent $47,000 with Iverson Media in the previous two years, making the total direct spending with her husband's company $250,000."
But wait, it gets worse. Also from Jaquiss at Willamette Week:
"Since Oregon began keeping electronic campaign spending records in 2007, clients have spent $2.04 million with Iverson Media. But that spending has increased dramatically recently—$1.6 million of it came since Vikki Breese-Iverson ascended to minority leader last November."
Think about that for a minute. This guy works in politics for 20 years and sees about $2 million in spend since 2007 (that would be, on average, about $133k a year - 15 years from 2007 through 2021).
His wife takes the top GOP spot in the Oregon House…and political spend with his firm rockets to $1.6 million a year (from Nov. 2021 when Breese-Iverson took the new gig to Nov. 2022 when this piece ran in Willamette Week).
That's a 1103% increase in one year.
That's abnormal growth for any company of any size.
So, these two must have some type of ironclad, irrefutable explanation for this outrageous 1000%+ increase in business…right? Especially considering it neatly coincides with the new position and new political power of Breese-Iverson…right?
Not even close. Honestly, Shemia Fagan gave better excuses for her behavior - and that's not saying much.
Breese-Iverson claims her husband's business increased after she took the new role because of a successful State Senate campaign he helped with in 2020. Bryan Iverson told Willamette Week the same, and added that he just had more time to dedicate to the business. In fact, he said, "I think Vikki being back in the building is more of a coincidence."
Not only are those defenses make little sense, they are entirely inadequate in addressing the clear ethics concerns. From Willamette Week:
"Much of the money secured by the Iverson Media Group in the current election cycle comes from political action committees that Breese-Iverson controls directly or indirectly because she also funds House campaigns as caucus leader.

Oregon ethics laws prohibit public officials from using their positions for private benefit "if the financial gain or avoidance of financial detriment would not otherwise be available but for the public official's holding of the official position or office.

In this case, the gain would come from Breese-Iverson using her official position to steer spending to her husband's firm, which buys ads and performs other campaign services."
Breese-Iverson simply shrugs this entirely damning situation off with a flat denial.
"I do not believe ethics laws were violated," she told Jaquiss.
If only Shemia Fagan knew it was that simple. She could have just looked her grift straight in the face…and denied ever seeing it.
I'm sure Oregon Republicans will pursue ethics investigations and calls for resignations with as much enthusiasm for Breese-Iverson as they did for Fagan. 
But seriously, what's good for the Fagan is good for the Breese-Iverson. Or something like that. The resignation machine is already warm. Let's just fire it up again and settle this egregious ethics violation.
And, let's be honest, with the way that both Vicki Breese-Iverson and her husband Bryan have been dragging Fagan for her poor decisions, it would be god damn delicious to see these two self-righteous dingdongs go down just as hard. A sampling of their hypocrisy, for those who indulge: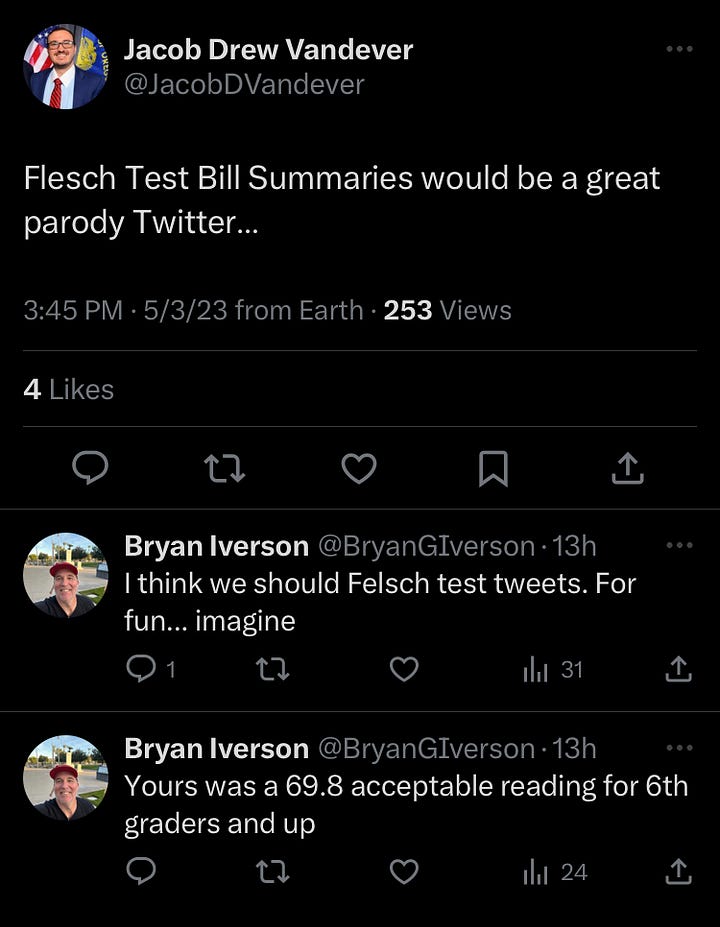 Salem-Keizer Proletariat is a reader-supported publication. To receive new posts and support my work, consider becoming a free or paid subscriber.