Discover more from Salem-Keizer Proletariat
Salem & Keizer news & analysis for the working class.
After calls for violence, progressive Salem businesses harassed by armed man
The day after KSLM radio airs story, local business & families harassed, threatened with death
A Salem Christian children's store is using their decision to close their downtown location to spur threats & violence towards a fellow local business owner they claim caused their store to fail.
After Jennifer and (former Nazi, we'll circle back to this) Dylan Marchand's interview was aired on far-right radio station KSLM on Sunday, August 21 - in which they spent nearly an hour focusing their anger, fear and baseless speculation on Salem boutique The Freckled Bee - an armed man showed up at the downtown boutique the next day. 
Armed with a retractable baton and dressed in ill-fitting clothes, this person threatened the employees of The Freckled Bee and then arbitrarily targeted a second progressive business in downtown - the award-winning restaurant & cultural venue, Epilogue Kitchen & Cocktails.
The Marchands, owners of a store formerly located in downtown Salem called Mimi and Little Beans Children's Boutique, appeared as guests on the Terry Sol Show - a weekend program produced and aired by far-right extremist media company, KSLM.
Salem-Keizer Proletariat exists in large part to counter the deeply harmful disinformation that right-wing media spews into our community. To receive new posts and support quality local journalism, consider becoming a free or paid subscriber.
At one point during the interview, host Terry Sol told his listeners:
"Well, they were attacking your family. When they go after your family, your children, your grandkids - then the gloves come off." 
Considering that phrase is 100% used to signify that someone deserves an increasingly aggressive or violent response, reasonable people would conclude this is a call for violence.
On Monday, August 22 - the day after the KSLM segment aired - a person who operates on social media under the name Mark Lee showed up at The Freckled Bee. 
He entered the store and threatened the workers there. He left and lingered outside, taking pictures of the store interior through the windows. Mark Lee, armed with a retractable baton, also accosted a different, and entirely unrelated business, Epilogue Kitchen & Cocktails. Epilogue's owner and award-winning chef Jonathan Jones indicated on social media this wasn't his first run-in with Lee, and he confronted Lee this time because his family was present and felt unsafe with this armed right-wing extremist.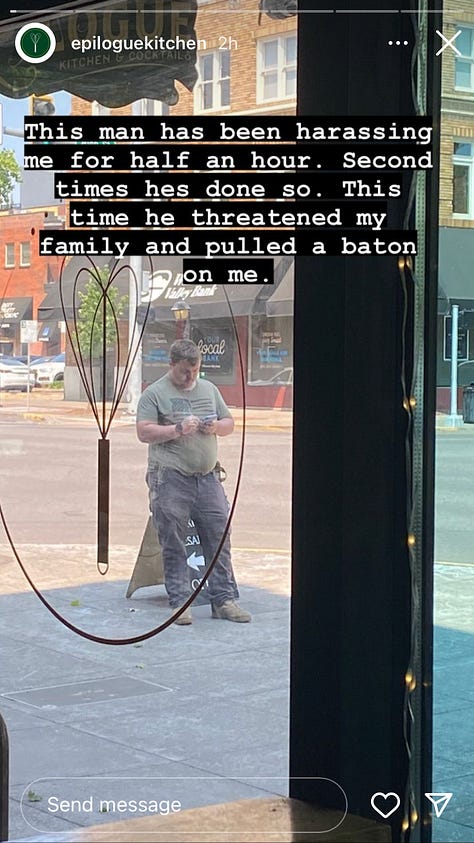 Lee documented his harassment efforts on Twitter (no, we're not gonna call it X). I'm not going to link to his account - you can search his name on Twitter and see for yourself. Here's a selection of his efforts to increase harassment of the Freckled Bee and Epilogue (who, again, had nothing to do with any of this).
According to extensive research about Mark Lee, it appears that some of his online activity around pedophilia suggests he's got no business judging anyone…about anything.**
(**BEFORE you check out that thread, be warned that it's very, very gross and potentially triggering for victims of sexual assault or pedophilia. The information in that thread is from a reliable researcher, but SKP has not gone through and verified the accuracy of each of the approximated 3 million tweets in that thread. The link is to an archived version of the original thread, as most of it has been deleted from Twitter.**)
Patriot Barbie, whose name is Lindsey Graham, along with a handful of social media hangers on, then used Twitter & Instagram to whip up a series of posts targeting The Freckled Bee and the store's owner. Again, we don't link out to sites or profiles of people like this - she's easy to locate on social media.
Graham even suggests that people show up at The Freckled Bee in an organized harassment campaign.
Several folks who engaged with this content and others like her that contributed to this harassment campaign suggested violent outcomes including escalating harassment of The Freckled Bee; executing the person that owns Freckled Bee; and burning The Freckled Bee to the ground.
The result of the Marchand's efforts to draw attention to their own store closing has seemingly pivoted into a stochastic terrorism campaign against another local business. 
So, how exactly is one downtown Salem store responsible for the closure of another downtown Salem store?
Dylan Marchand was a Nazi, by his own admission on The Terry Sol show. An actual, real-deal Nazi. He rose through the PNW Nazi ranks after leaving the California penal system in his early 20s, eventually planning camps and events for his fellow Nazi shits.
In 2009, a research collective called Rose City Antifa wrote an article about Marchand and his work in the PNW - specifically his role in organizing a "white supremacist gathering at private property near Vancouver, Washington," according to researchers. 
Promotion for the event was abhorrent:
The "racialist BBQ and Camp out" featured a speaker who had been involved with George Lincoln Rockwell's original American Nazi Party, and also included "a bonfire, Jew pinata and other activities."
On July 24, 2023, The Freckled Bee shared this Rose City Antifa article on Facebook and Instagram to alert local folks and business neighbors to be aware that Dylan Marchand was in their community. Here's what they posted:
The single call-to-action in the Freckled Bee post is essentially - know who you're spending your money with. 
This post, the Marchand's claim, resulted in them permanently shutting down their retail location the very next week. 
But that's where the Marchand's story starts to wobble. In social media posts throughout early August, the Marchands claimed the reason for closure was threats of violence.
On the Terry Sol Show, Jennifer Marchand claimed that The Freckled Bee "was inciting violence against us" by revealing that a local children's store was owned by folks with Nazi history.
Jennifer Marchand continued: "She's (Freckled Bee) getting people that she probably doesn't even know - people who believe in this far left agenda, like members of ANTIFA - to attack us and possibly harm us."
"Because they don't hold back…"  Sol's cohost and KSLM co-owner, operations manager, and on-air personality Amanda Smith added.

But when pressed by Terry Sol for an example of what attacks have materialized so far, the only thing the Marchands could produce was:
One day the door locks on their store looked "messed with."

Another time their alarm went off.
Both, she admitted, could be entirely coincidental.
When asked about the threatening messages, the Marchands said that all of their employees (including part-timers and volunteers) were sent messages on social media with their full names and addresses. On their store's Facebook page, the Marchands indicated those messages were the reason they closed their store.
But during their interview on the Terry Sol Show on KSLM, the Marchands swiss-cheesed their own narrative.
When asked why they closed their story on the radio, Dylan Marchand claimed:
"We don't have enough business. We can't keep the business going if we don't have support and she's (the owner of the Freckled Bee) emailed everybody and scared them, basically - innocent women that have children that don't want to come into the store."
And again, earlier in the interview, Dylan Marchard confirms their reason for the store closure:
"She was bearing false witness against us and she was slandering at the same time and making up lies and using half-truths to try to attack us so she could make her business bigger and get more support for her business."
But elsewhere in the interview, Jennifer Marchand scoffs at the idea that her store and the Freckled Bee are competitors:
"We're not competition. We are as different as you can get. We are conservative or Christians. We love, y'know, Jesus. And she is a person who supports ANTIFA and has all kinds of crazy liberal political posters on her windows and she has transvestite story time with children and sells stuffed male anatomies for kids. So, very different - she's far left…."
So what was the actual reason they closed? Was it the alleged threats? Or did their customer base evaporate within a week because of a social media post? Or was it an anti-fascist plot to ruin a Christian business?
The answer seems to depend on what narrative best serves the Marchand's in their future endeavors.
The most immediate endeavor, by the way, appears to be a fundraiser to pay for legal action against The Freckled Bee. The Marchand's have raised just around 5% of their goal over the course of a week. And since most of the folks that participated in their initial wave of attack - Patriot Barbie, KSLM, and others - have largely moved on to their next culture war outrage, it seems like community response for the Marchands is heavy on thoughts & prayers, but light on actual follow through.
And while the Marchands insist that Dylan has left his Nazi beliefs and friends in the past, even that claim comes with some shaky details.
For example, the Marchands said on the Terry Sol Show that they had gotten together in 1996 and just celebrated their 25th wedding anniversary. But in 2016, years after Dylan Marchand found Jesus and left his Nazi past behind him…he joined Twitter with the handle "@dylanmarchandHH."
Hands up for who knows what HH means? I'll give you a hint. It's the initials of a historical figure that Nazi's (and some others) idolize. Dylan Marchand created this account, with this user name, years after he claimed on the Terry Sol Show he had left that life behind. For those that dig math, September 2016 is less than 6 years ago. Not exactly the distant past, right?
And while the Marchands get their story straight, the community is rallying around the Freckled Bee as that store stays open despite actual threats of violence and armed right-wing extremists harassing workers, other business owners and families.
Even as community supporters of local business spent shifts at The Freckled Bee to help de-escalate should more right-wing extremists show up, there was fresh anti-semitic graffiti found outside the Freckled Bee on a public utility poll.
On August 22, community members were helping Freckled Bee keep her shop open and free from threat and were harassed by a Christian person who insisted on proselytizing while the community members repeatedly (and I mean repeatedly) asked him to leave them alone.
While at the Freckled Bee, community support also noticed a couple other known local right-wing extremists walk past multiple times.
While the Marchand's allege a barrage of harassment, it actually appears as if The Freckled Bee is the business under siege. And the documented digital and physical harassment comes at a time when a shop owner in California was murdered simply for having a Pride Flag in her window:
With that deadly, homophobic attack in California still fresh in mind for many, employees at the Freckled Bee had to endure being threatened and intimidated by an armed far-right extremist.
Popular review sites like Google and Yelp show dozens and dozens of baseless negative reviews for The Freckled Bee posted within the last several days - people (including known far-right extremists) who have clearly never set foot in the store complaining about the Freckled Bee's politics and ideology.
Some of the comments across social media platforms threatened fire, murder and other attacks on the Freckled Bee, including regular anti-semetic expressions.
At last check, there was
no influx of negative reviews for the Marchand's business
on any review site. 
Considering that's objectively the easiest way to harass a business, the lack of negative reviews for Mimi And Little Beans suggests any digital harassment campaign against the Marchands is either greatly exaggerated or fabricated entirely.
In fact, the Marchands appear to be experiencing exactly NONE of the actual threats and harassment their campaign unleashed on The Freckled Bee. 
So…how can you help?
It's super simple. Shop at The Freckled Bee. It really is a neat shop and they are always helping out the less fortunate in our community by collecting food, supplies and other items for those in need. 
Actually, spend your money locally with all stores that share progressive values, including Epilogue Cocktails & Kitchen (who regularly experiences waves of digital and in-person racist, bigoted attacks).
Find The Freckled Bee online at:
Salem-Keizer Proletariat is a reader-supported publication. To receive new posts and support my work, consider becoming a free or paid subscriber.